OPEN THE DOORS
In the June 2017 after two years of construction, we opened up our national retreat to serve recalibrated veterans and their families. You can read more about all of the wonderful features that our retreat now has a result of capital investment and improvement.
We were also able to add a High Ropes Course thanks to our friend Mike Rowe and "Returning the Favor." As we finished up construction, our local DIY Network stars Maine Cabin Masters partnered with us on a renovation of the waterfront cottage to make it more handicap accessible and a great spot for cookouts.
We are extremely proud that our entire facility is handicap accessible for our veteran families to get around and make the most of all that we have to offer.
WELCOME TO MAINE
Veterans that we welcomed at the retreat this year had sustained injuries that may limit activities that they are able to participate in. Many had sustained injuries such as above and below knee amputations, above and below elbow amputations, hemipelvectomy, nerve damage, vision impairment, spinal cord injuries, traumatic brain injuries, and post traumatic stress. Although, this didn't stop anyone from participating in the adaptive sports and activities we had to offer. In 2018 we aspire to increase to 16 weeks as well as adding multi-season sports, arts and humanities, culinary offerings, and more. Our goal is to provide a best in class experience for every veteran who attends by continuously improving our offerings. We invite you to enjoy the testimonials of our veterans.
ACTION PACKED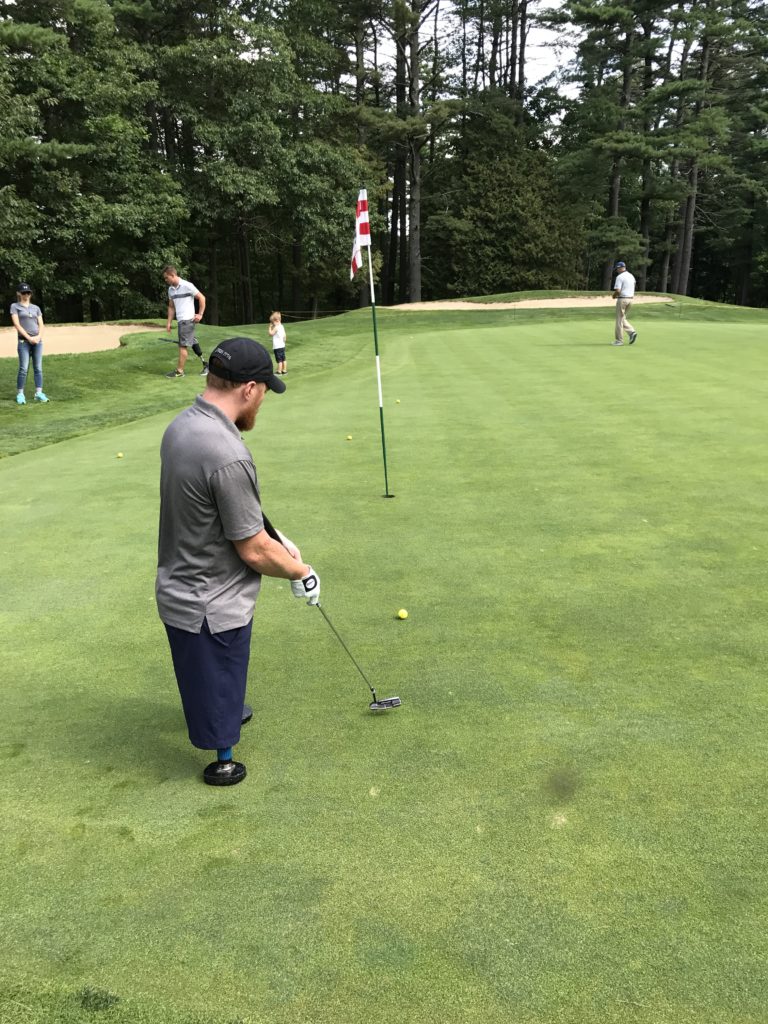 Cpl. Thrailkill attempts a putt at Waterville Country Club
We were also able to partner with additional veteran support programs. Veterans Adaptive Sports Training provided participants the ability to participate in wheelchair basketball and archery. Project Healing Waters taught participants how to tie flies and took them offshore to fly fish. Veterans Martial Arts Training provided them with self defense classes and Panacea Massage Therapy School provided participants with massages. Pure Country Stables provided us with equine therapy, and Waterville Country Club helped instruct golfers and provided us with use of the golf course.
FIRST CLASS
In addition to adaptive activities, veterans and their families got to experience world class food.
Guest chefs joined us during the week to cook meals for the families, in addition to hosting a date night for the adults. During the 2017 season we were fortunate enough to work with some incredible chefs.
Chip Miller from Michael Jordan's Restaurant, Food Network chef Dan Smith, and Kelly Armetta, the executive chef from the Hyatt Regency- Boston. 
SUPPORT
Our volunteers contributed over 1000 hours of service at the retreat this year. We couldn't have done it without their hard work and dedication. We hope to see all of our volunteers back for next year. 
Of course none of this could have happened without support from all around the world. This year we received donations from all 50 states including Canada, Japan, Germany, and Belgium. With the help of these donations, we are proud to say that we have paid off our mortgage and are looking forward to the 2018 season.