Follow Stephen Thomas of Encinitas, CA as he rides his bike from Patagonia to Alaska in support of the Travis Mills Foundation. He will be traversing the entire north- south span of the Americas starting July, 2018. Follow him on this monumental journey and donate to his mission here. Stephen starts his journey on Tuesday, July 24th.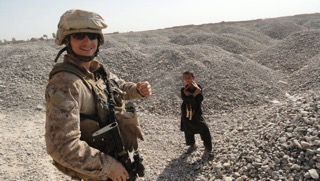 Stephen Thomas grew up in Southern California and joined the Marine Corps in 2009 where he served as a Combat Engineer Officer. He deployed to Afghanistan as a platoon commander in support of Operation Enduring Freedom from 2011 – 2012 and also deployed to Southeast Asia, Southwest Asia, and Africa with the 13th Marine Expeditionary Unit from 2013 – 2014. Upon leaving the Marine Corps, Stephen hiked 2650 miles from Mexico to Canada along the Pacific Crest trail. Recently he completed his MBA at the Marshall School of Business at USC.
Stephen is biking 15,000 miles in hopes to raise $35,000 for the Travis Mills Foundation!