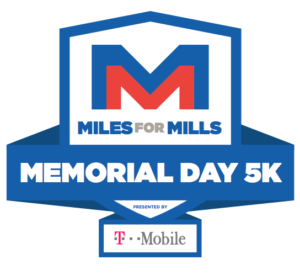 Registration is open for the 2018 Miles for Mills 5k presented by T-Mobile!
If you only run one 5K a year, we hope that you will consider joining us on Memorial Day – Monday, May 28, 2018 – for Miles for Mills 2018- Presented by T- Mobile.
Miles for Mills began in 2012 shortly after SSG Mills was critically injured as an event to support The Mills Family on their road to recovery. Today, it is the Travis Mills Foundations signature community fundraiser to raise critical funds to support combat-injured veterans and their families on a similar road to recovery.
This year is the 6th anniversary of Miles for Mills and since SSG Mills was injured! Our goal is to make this our biggest and best year yet. We have reviewed survey results and have made necessary changes to the event. Some of the things that are going to be different this year will include chip timing, detailed course outlines, marked hazards, water stations, and after party at Cushnoc Brewing Company.
Registration for the event has started and we encourage everyone to sign up as soon as possible! This year each participant will receive an optional fundraising page. Each participant that raises $100 or more will receive a free New Balance t-shirt with our custom Miles for Mills- presented by T-Mobile logo. There will be limited quantities of shirts available for purchase on the day of the race. Your fundraising support will help us continue our mission in the 2018 season.
Event day: Announcements and National Anthem will begin at 8:30 am. Day of event registration will go from 7:00 am to 8:30 am. Day of event registration is $25. Parking available in downtown Augusta.
Route: The run will take place in downtown Augusta. This is a low, flat course that offers speed for competitive participants, and a safe, walkable, family-friendly course for everyone.
Timing: Chip Timing will be offered this year. Bibs with RFID tags will be used for live timing.
Support: This year, each participant will receive an optional fundraising page. Participants who raise $100 or more receive a free New Balance t-shirt! There will be limited quantities available for purchase on event day. Your fundraising support helps fund 2018 families who will attend the retreat.
Kids: This event is family friendly! Kids may run alongside a registered, participating adult. Please, no pets. Strollers are allowed and requested to remain in the back of the race.
Prizes: Given to the top male & female overall and the top 3 finishers in each category.
Race Route: