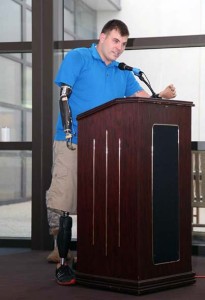 Travis Mills's keynote speech teaches and inspires audiences nationwide to "Never give up. Never quit." no matter the obstacles or circumstances. Travis's larger-than-life personality, sense of humor and incredible spirit for life engages audiences from the moment he takes center stage.
For more details about having Travis speak for your event, please contact us.
Speaking Testimonials
"I don't know where to start but in short, Travis was nothing short of phenomenal at our event!! … If you are considering Travis, stop what you are doing and sign him up now."
Todd Anderson,
Director of Sales Operations, Pictometry
"Travis is one of the most inspiring and encouraging stories of our generation!"
Jen Allen,
Director, Employee Communications, Lockheed Martin Corporation
"Travis is a terrific public speaker, who fluctuates between humor and sobering sincerity."
Stacy Taylor,
Executive Director, Open Hearts Foundation
"We expected a good talk that highlighted his injuries and time at Walter Reed Hospital. What we received was so much more…"
Matthew Bolton,
Quinnipiac University
To read more reviews and testimonials, please visit Travis's LinkedIn page.